Small 'Green' Condo Building Approved on Ogden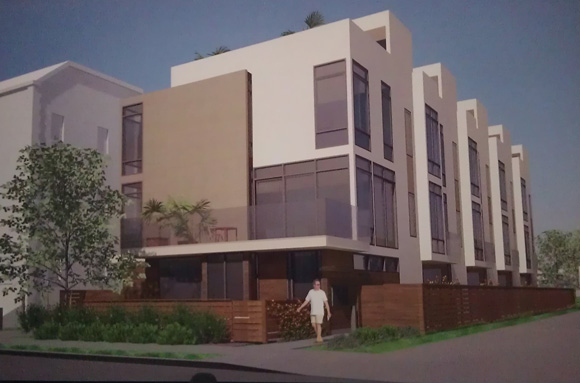 West Hollywood's Planning Commission voted 5-1 to approve a three-story, five-unit townhouse-style condominium building at 1128 Ogden Drive, just north of Santa Monica, during its Thursday night meeting.
A two-story, single-family home will be demolished to make way for the condo.
The commissioners were happy with the modern-style building, which provides two side-by-side parking spaces per unit at ground level, rather than having an underground parking garage.
"It's a modern interpretation of a townhouse building," Commissioner Roy Huebner said. "Having the parking at grade will mitigate problems for neighbors during construction."
Commissioner David Aghaei also liked the "tuck-under parking" and hoped more buildings would use it.
City regulations call for the building to have 500 square feet of "common outdoor space" for residential use as well as 120 square feet of private outdoor space (a patio or balcony) for each unit. However, the owner requested to eliminate the common outdoor space and instead provide 458 square feet of individual rooftop decks for each unit.
The change is allowed because the project is considered a "high-achieving" green building, thanks in large part to its solar panels and use of recycled materials.
Newly sworn-in Commissioner Heidi Shink worried that when the site's existing home is demolished, only two single-family homes will remain on that side of the block.
She also worried that the three-story building height would overwhelm the rest of the street, which is made up of one- and two-story buildings. Consequently, she voted against the project.
"This is my first meeting and I'd like to exercise an abundance of caution," Shink said.
The planning commissioners also learned about a new term.
Attorney Todd Elliot, representing the 1128 North Ogden LLC, told the commissioner his client wanted a "vested tract map" for subdividing the lot for condominiums rather than the standard "tentative tract map."
The commission was unfamiliar with the term "vested tract map." Commissioner John Altshcul asked, "Is this a like a development agreement?"
Planning Manager John Keho explained that the vested tract map locks into place the zoning laws governing the property at the time of approval.
For example, if the city were to change the zoning before construction begins so that only two-story buildings were permitted on the lot, the vested tract map would still allow the developer to still build a three-story building. With a tentative tract map, the developer would only be allowed to build a two-story building.
When the commissioners asked if this was the first vested tract map that had come before them, Keho said there had been many others. He explained that the owner merely has to request a vested tract map when submitting the application, otherwise it is automatically a tentative tract map.
Tagged ogden, west hollywood condominiums, west hollywood development